Aadhaar-Privacy of personal data part of right to life
SD, 6 years ago
0
2 min

read
873
A news item on aadhaar Privacy of Indians, makes us wonder whether our Policy Makers really know what they are doing? This swinging from one end to another like a Pendulum is amazing and only perhaps happen in India. Here in our country we do not have time nor inclination to dig deep into a subject and we just want to push down half baked policies down the throats of our citizens.  And hence we end up making opposing statements in Court in different Cases.
Confusion at Policy Making level for Aadhaar Privacy
How our Policy Makers contradict themselves reveal confusion at the highest levels. Govt in the PIL against linking our Aadhaar IDs to everything (eg Bank Statements and Income tax etc) has said something in court as quoted below
Quote
Before a nine-judge bench of SC hearing validity of Aadhaar, challenged on the ground of violating right to privacy, attorney general K K Venugopal had cited two SC judgments -one by an eightjudge bench in 1954 and anot her by a six-judge bench in 1962-to argue that privacy is a common law right and petitioners could not complain of breach of privacy due to collection of biometric data of citizens for Aadhaar.
Endquote
And on the other hand in another case they said something quite contrary to earlier statement as quoted below
Quote
As arguments heated up between senior advocates Harish Salve and Kapil Sibal, who crossed swords for the petitioner and WhatsApp, respectively , additional solicitor general P S Narasimha stepped in and said: "Personal data is an extension of an individual's personality . Data of a personality is integral to right to life guaranteed under Article 21."
Endquote
Is the Govt now caught on their wrong foot?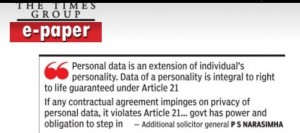 Even though UID may say their layers are protected and data is secure, I feel they are wrong. The ones who are fighting the Bill through PIL are very much right. I think that once you link Aadhaar number to Financial data like Bank Accounts and Incometax we are exposing ourselves. We are not talking of IT Security Practices anymore but risk from human fraud when so many agencies are involved, . And we all know how Humans can bypass all securities if they want to misuse data and make money A country which is NOT even able to stop our MOBILE numbers being misused to stop getting spam SMS every day in bulk we expect it to stop misuse of our IDs? Not possible! Good of TOI to bring this news up to our Breakfast Table. Read the news item at this link –> 
TOI news item.
About this Blog
Related posts